You remember the phrase 'a picture is worth a 1000 words, question is, are you making the most of it? Pictures not only attract the viewer's attention to your content but they can hold it by telling a story and enticing them to want to know more! When planning a case study or testimonial ask yourself these questions. Why have we chosen this case study to promote our brand, what do we want to say and how are we going to communicate this visually? Remember its not just a head shot, you are trying to create a story within a picture which can truly speak a 1000 words!

1. Location and Background
Mel Morris - Investor & Philanthropist
The portraits of Mel were actually taken for an article about his career, rather than a case study but these tips are still relevant for your case study photos. When I first met Mel I was amazed how friendly and down to earth he was. He immediately asked if we would like a tour of the Derby County training facilities. This was an excellent chance to hunt out some interesting backgrounds, look for scenarios for Mel to be in and most importantly to strike up a rapport. What attracted me most were the big Ram icons on the walls, this would make an interesting graphic and would also be recognisable to a certain audience. I always try and include some kind of company branding or logo in one of the shots, I can sometimes look staged but it does help tell the story. The first shot was taken in a training room. I loved the large Rams logo on the wall, how it looked so crisp and stood out. I decided to keep the composition simple, almost reducing it to monochrome. Using a hard light off to the side created excellent light on Mel's face and also created an amazing shadow. It is always worth adding light to any interior unless there is plenty of daylight. Light can add atmosphere, mood and drama, just like on a theatre stage. The second picture was captured in the players changing room, again I was very lucky to find the massive slogan 'The Derby Way'. This shot was a no brainer as the words looked graphically striking and also they represented what Mel Morris was all about. I could have positioned Mel in the foreground, perhaps framing a head and shoulders and then including the words to the side. Instead I asked Mel to sit on the bench. This then created a synergy between the sitter, the ram and the slogan. The image was used as an A4 full bleed and also acted as the title.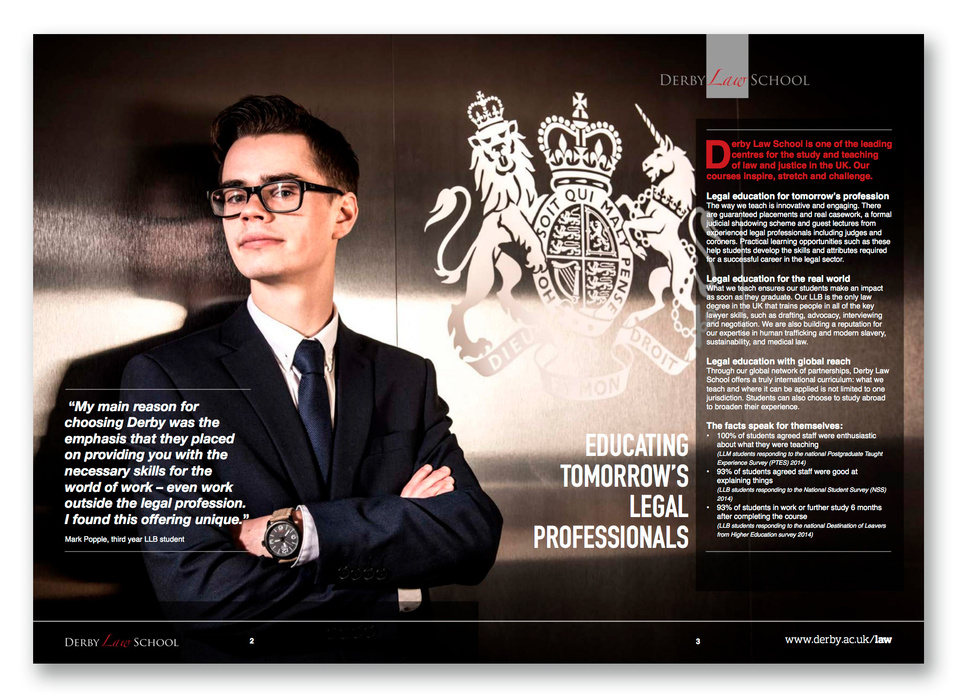 2. Quality of Light
In his quote, Law graduate Mark Popple talked about being prepared for the world of work. I booked out his universities law court, hoping this would provide an obvious backdrop. Mark arrived in a suit, this was a great starting point as it created the right image. Seeing Mark's smart haircut, interesting glasses and watch reminded me of a GQ fashion article, so I decided to use this as inspiration and treat it more as a fashion/ celebrity shoot. The final pose with arms folded, head turned to the light but eyes back at camera all help to convey his confidence in his future. The icing on the cake is the silver background, for me the backdrop can be as important as the subject/model. The brushed steel is a great material to reflect light off and it suggests a modern 'city' feel. The coat of arms helps to tell the story, as it is a recognisable symbol to the targeted audience.
3. Keep it simple
There are three things that make this shot work, the panoramic view, the bright red coat (red is always a winner in pictures) and the natural smile. Sharman Aldridge had undertaken a MBA and was a Manager for NHS. She worked in an ordinary office, with not much natural light. However as I walked to her office I noticed a door leading out on to a rooftop. After some gentle persuasion Sharman popped her bright red coat on and braved the winter climate. This is where as a photographer you have to work quickly, as you don't want to upset your sitter. So I kept the shot simple, I used the external wall as a prop, this relaxed Sharman as she had something to do with her hands. I then used a shallow depth of field to blur out the distracting aspects of the rooftop and hide the gloominess of the season.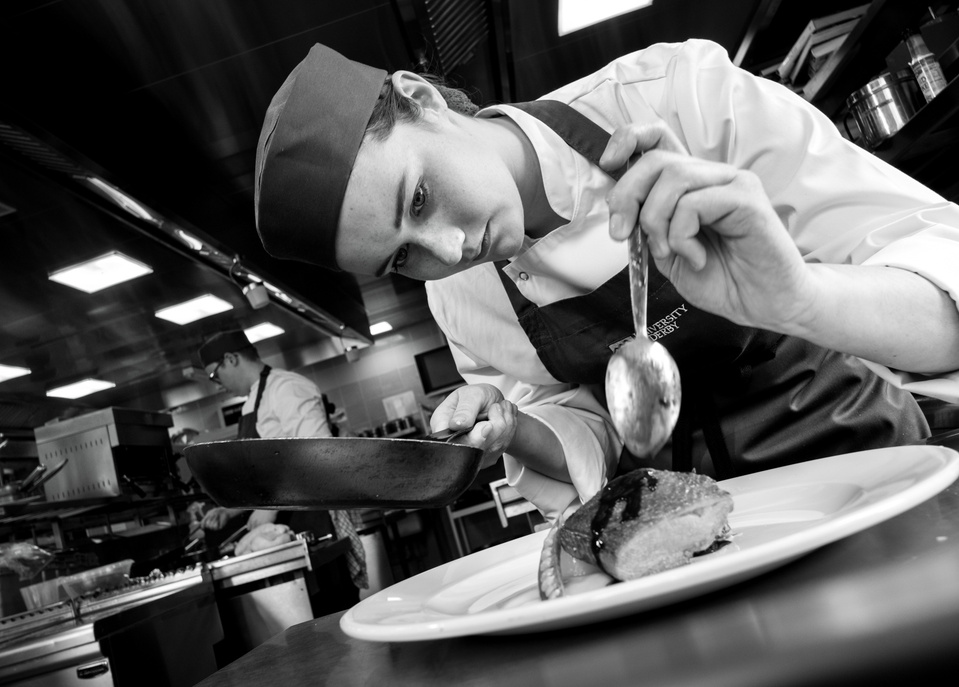 4. Telling a story
Rosie Maguire is a successful award winning culinary arts student.
I spoke to Rosie a couple of weeks prior to the shoot, to find out more about what might be possible. In the end she offered to cook a dish in a working kitchen. This was an ideal opportunity to capture some authentic action shots at the same time as allowing Rosie time to get used to the camera. By the end of the photo shoot Rosie was relaxed and brave enough to pose directly to the camera, expressing a real confidence and pride creating an image that perfectly illustration her achievements.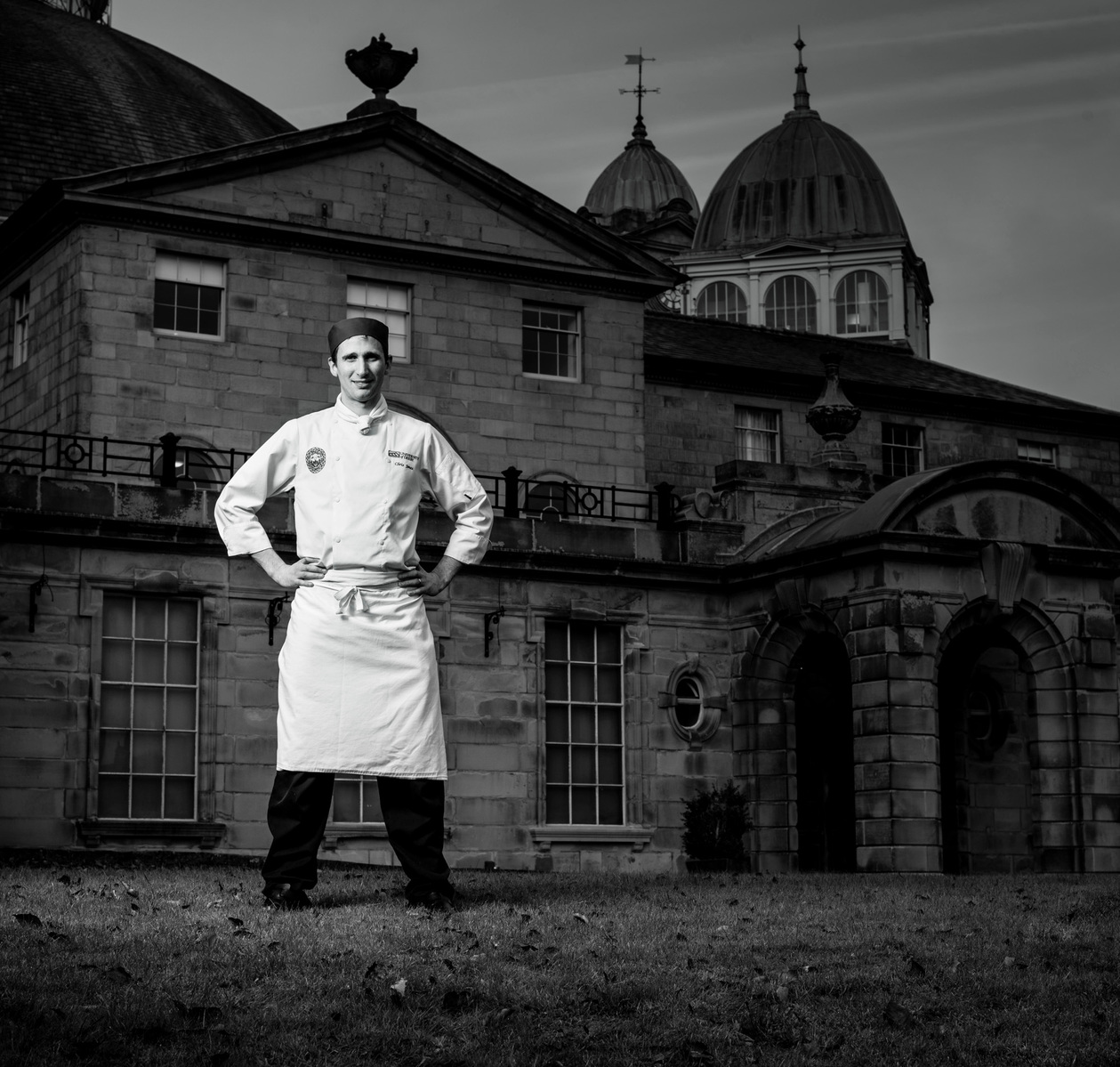 5. Being open to opportunities at the photo shoot
Chris Jones runs a professional kitchen for an award-winning restaurant at the same time as teaching under graduate culinary arts and hospitality students, so his time is very tight! I new I wanted to avoid the cliche of chef holding a knife or frying pan but we had arranged to meet in the kitchen. When I turned up the kitchen was jammed packed with chefs, as it was the middle of the day. There was no chance we could do the portrait in there, it was just too busy. So this is where you have to have a back up plan. Chefs spend all their time in the kitchen but the building is also important to their restaurant, it is all part of the dining experience and brand. In the end I took Chris out of his familiar environment and used the exterior of the beautiful grade II listed Devonshire Dome to add another layer to the story. Chris is lit by an off camera flash and probably 20-30 feet away from the building these both help to separate Chris from the background and emphasise his chefs 'whites'.
In summary
Do your homework, ask your case study about what might be possible and how much time they can spare. Choose a good location that is relevant and will help tell the story (is there any company branding worth featuring). Look for natural light if not make sure you use off camera flashlight to make your case study stand out. Consider props such as tools of the job, uniforms, these help distract the sitter as well as reinforcing your story. Keep your sitter happy and relaxed by communicating your intentions and involve them in achieving the best results. Lastly be ready for unforeseen circumstances and go with it! I hope you have found this post useful and haven't found too many grammatical errors (I'm better with pictures than words)
Please share any feedback you may have or suggestions you would like to see regarding new posts.
You can find more examples of my portrait and case studies here